Current Salon & Color Bar was recently voted "Best Overall Hair Salon" in Posh Seven Magazine's 2018 "Best of Suburbia" poll.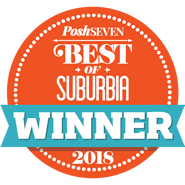 "We have so much to be thankful for this year: our beautiful new salon location in One Loudoun, our talented team, our amazing clients, and the readers of Posh Seven Magazine," said Nese Altas, Owner and Master Stylist. "We've loved helping this amazing community look and feel their best since 2012, and we are so appreciative of the continued support and recognition."
Current Salon first opened in Ashburn, Virginia in May 2012, recently moving to its new location in November 2017. "Our new location doubles our previous salon space, allowing us to grow our team and expand our service offerings." In addition to classic and contemporary cuts and color services, the salon offers a wide array of cosmetic treatments, including permanent makeup, microblading, waxing, threading, Lash Lift & Tint and more.
"We understand that hair is only one part of the beauty equation for our clients," said Ryan Mallard, Owner and Managing Director.
Stylists at Current Salon are each chosen for their considerable skills, creative delivery and a commitment to continuing education. Just as important, each employee embraces the salon's culture of a fun, energetic and compassionate environment when welcoming clients. "I had a really great experience at Current," said one Google review. "The staff are really customer service focused and very inviting. From the owners to the stylist and reception staff, you felt like they wanted you there, and that's great in my opinion!"
"I have to congratulate our entire team for all of their hard work and continued commitment to their craft," said Mallard. "I also want to thank each and every client for giving us the opportunity to do what we love in the community we love."