Current Salon & Color Bar was voted Best Overall Salon by the readers of Posh Seven Magazine in the publication's 2017 "Best of Suburbia" poll. Posh Seven Magazine is the region's only lifestyle
magazine designed exclusively for women who live in Loudoun County, Great Falls and Reston.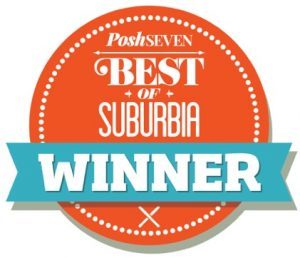 From Posh Seven Magazine: "Current Salon & Color Bar appreciates that each client is unique and wants to make sure that all clients feel great about their experience, both during their time in the salon and well after they leave. This award-winning full-service hair salon has a professional team of stylists who have created a warm, personal experience in a nice environment for men and women, whether they're seeking a new look or maintaining their preferred style. Clients tout the team's attention to detail, friendly demeanor, and professional skills."
Current Salon opened in May of 2012 and now has a team of twelve stylists providing expert hair care to the salon's clients. Their award-winning stylists specialize in contemporary and traditional cuts, styling, conditioning and color treatments, waxing, threading, permanent makeup, lash lifting, microblading and bridal services.
"We are so honored by this recognition from the readers of Posh Seven Magazine," said Nese Altas, Co-Owner and Master Stylist. "We can't thank our clients and the community enough for their ongoing support and recognition!"
It is this continued support that has prompted the salon's move to a larger salon space in One Loudoun in the summer of 2017. The new salon location will feature multiple treatment rooms for waxing and threading, a larger color bar area, as well as a private room for bridal parties and other groups. The larger space will also allow the salon to further expand its permanent makeup, lash lifting and microblading services, as well as the size of it's team to meet the salon's growing demand.
What won't change with the new location is the salon's dedication to excellence. "We've made a commitment to building the very best team of stylists in Northern Virginia," said Ryan Mallard, Co-Owner and Managing Director. "We can't wait to be able to grow our team and service offerings in the new space, located in what we recognize to be the hottest place to be in Loudoun County."